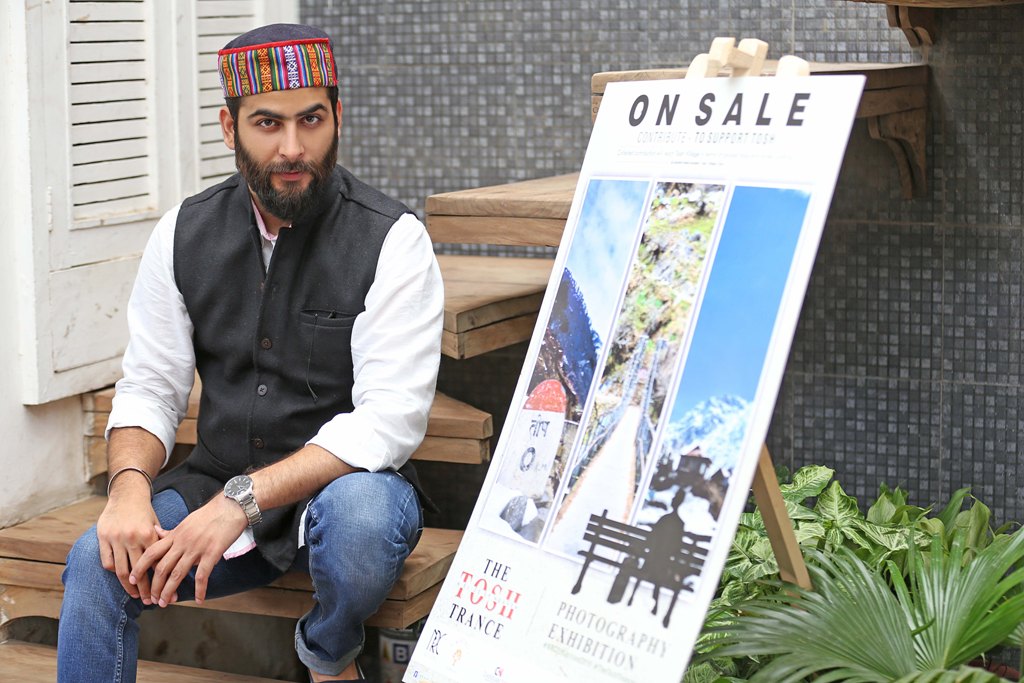 04 Sep

EXHIBITION 2016, #THETOSHTRANCE

'World Photography Day Special' – A Visit to the most admired exhibition of city based photographer Nitin Rai Chaudhary

For me Tosh is 'Home away Home'

On the occasion of world photography month, A solo photography exhibition organized by Chandigarh based photographer – Nitin Rai Chaudhary (NRC), displaying selected collection of 20 photographs from travel expeditions to TOSH, Himachal Pradesh' at Famme Bois Bistro sector 7C Chandigarh.

Keeping a gift culture he said that photography and human values has no price – I have displayed and kept collection of photographs are on sale, but while introducing the gift culture in such exhibitions so here anyone who likes the initiative and scenic beauty and wants to buy a frame, can contribute any amount to support TOSH.

Why #TheToshTrance word for an exhibition – TOSH stands for a place obviously, and as we understand trance word comes from soulful music, here we have music in the sound of wind and it's amazing and very relaxing for soul. That is how, many foreigners come from different part of world and stays here meditate for 6 months to a year. They say; we feel a positive energy here which is nowhere.

TOSH is a place very close to me as I initiated with my first travelogue here and the next take is one short film on the culture of Tosh; how people stay and live such a simple life in such a manner. Tosh is a tranquil and captivating getaway to satiate your hunger for the mountains. Tosh always calls you back, one trip is never enough! That is how after visiting and exploring in 2014, I decided to return to the Slice of Heaven, Where you feel blood rushing down the veins and realize Tosh is more vibrant than imagined. Return to TOSH has the major part of visit; I call it Soulful adventure of Being Alive as which is to meet people I clicked during my last visit to the place. I had made a checklist of people whom to present their portraits. On the top of list there was this boy whom I call a 'Silent watcher' as he cannot speak, can't even listen but has such an intense expressions to create that one 'Decisive moment', then there is this lady whom I clicked while she was carrying a 3x greater volume with ropes and trekking towards the entry to centre of village, waving at me with a smile. Another lady (amma) with a distinct smile on her face she also made a cup of tea for me while conversation, in such a chilly weather of Tosh.

Living around them was one of the richest experiences I 'would ever have; even with less access to the facilities they're always genuinely happy.

Every day you wake up breathless, look around, and you feel swept away by the amazing view. Mountains, their beautiful paraphernalia were a solitary abode, giving time for contemplation, meeting new people, hearing newer travel stories. The air is pleasantly cool and continuously flowing, shaking and sweetly cajoling the marijuana plants ubiquitous. A variety of food is served – from Italian to Israeli to, obviously, Indian. German bakeries, Cafes boasting of best Israeli food was all that you see. What you will cherish to devour, after smoking some leaves, are the stuffed Paranthas — delightfully crispy, with butterto go alongside.

You will surely feel that unlike the big cities, people usually had a relatively decent life. Everyone had shelter, food and water. It is a very simple life dedicated to work.

Tosh is ideal for meditation; peace and calm, as said Shiva have meditated her for 3000 years.

About Artist: Nitin Rai Chaudhary is Humanitarian, Street-Side and travel photographer, living in Chandigarh (North India). He captures Time, Beauty, People, Places, Nature; every single Click has a story behind it which makes every individual Click Special & Memorable.NRC believes every passing moment is another chance to create memories. Memories which are the combination of 'surprises, reflections, gratitude, attitude, challenge, controversy, realism'.

Contributed collection through the exhibition will reach TOSH in terms of packed food and winter clothing by the end of this year, nrc concluded with intense feelings.